As the great and good of TV were congratulating each other at the Royal Television Awards last week, here at OTB we felt some of telly's greatest achievers were left out in the cold. Where, for example, was Gillian McKeith's award for her incredible commitment to lying? Why were the producers at BBC3 not rewarded for their jaw-dropping factual entertainment show Help! My Dog's As Fat As Me? We thought we'd give these guys some much deserved kudos by rewarding our favourite telly fails. After all, it's about time Stuart Baggs finally got some recognition.
Most Make Up
Snog Marry Avoid – The 'Before' Girls
You might not like the "deranged slapper" look, but you have to admire these girls' steely determination to look f**cking stupid in public. It takes a lot of dedication to get up at 5am in order to smear yourself with burnt umber acrylic paint and glue on four layers of false lashes. It's not every day you see someone turning up to work in gold lycra hotpants, wearing a hat made of synthetic hair. Or humping the dancefloor in the early hours like a waxed bonobo monkey. Snog Marry Avoiders – we salute you.
Runner-up: Kat from EastEnders
Most Spectacular Career Implosion
Richard "hanging out the back of it" Keys and Andy "while your down there, love" Gray

Not much left to say about these guys, apart from to remind everyone that, if you will say something overtly sexist, try not to do it ON CAMERA.
Runner Up: Brian True May: Midsomer Murders
Bri, you know those fairly right wing views you have about ethnic minorities? Yeah, the stuff about "Englishness" and the countryside. Well, why don't you try not giving the nice journalist from the Radio Times an earful of them? OK?
Best Animal Performance
Come Dine With Me – Rabbit Spasm AND Snake Poo

The producers of Come Dine With Me have an incredible, almost symbiotic way with animals. Their known, in the industry, as the household pet-whisperers. Not only did a snake sh** all over the table in one Come Dine With Me in March 2010 – a landmark moment for television – but a rabbit also starting casually spasming in it's owners arms that same year. The funniest 20 seconds of TV Channel 4 churned out all year.
Worst Mother
Ronnie Branning – Eastenders

In a storyline cut short because viewers can't stomach how teeth-grittingly bad Ronnie is at motherhood, she swapped the Moons' baby with her own, dead child. Wow. With recent reports suggesting she might even end up in the 'slammah' (EastEnders' version of Azkaban) for her heinous crimes, we could be saying buh bye to East Lahndan's worst mother since Mrs Twist.
Most Compulsive Liar
Gillian McKeith – I'm A Celebrity Get Me Out Of Here

The former You Are What You Eat presenter and non-doctor took advantage of Heather Mills being suspiciously absent from the media spotlight over the last 12 months to sweep to victory in this category. However despite her constant fibbery, she will always be known as a hero by the producers of I'm A Celebrity.. after she single-handedly made last November's series the most successful since Pete & Katie started their ill-fated love affair. Even Ant & Dec couldn't stop laughing as she feigned a faint. This woman's pants were well and truly on fire…
Runner Up: Derek Accorah, for his continuing determination to talk sh*t
Most Questionable Interview Technique
Fearne Cotton – When Fearne Met

Like the nefarious love-child of Paxman and Dappy from N-dubz, Fearne connected with her subjects on a level unheard of on ITV2. For most of the series she stood on street corners while her guests failed to turn up. The time she was in their company she spent probing their psyches with questions like "So, what's your fave t-shirt?" and "Do you like chocolate?"
Most Pointless Script
Outcasts

The BBC's stab at sci-fi could really have cleaned up in every category here, but we thought that we'd limit this terrible show to just a couple of nominations.
Runner Up: Coming Of Age
Coming Of Age also deserves a nod for it's flat jokes, canned acting and perpetual use of the word 'titties'.
Most Shameless Nudity
The Tudors

Apparently, in the past, people had sex ALOT. Not only that, but they wandered about with their wabs out for pointlessly prolonged periods of time. Not to be watched while your having your tea (especially if it's sausage and mash).
Worst Idea For A TV Show
BBC3: Help! My Dog's As Fat As Me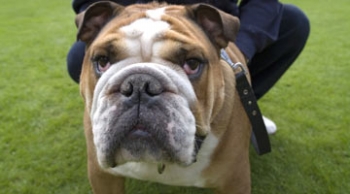 I think BBC3 have started taking the names for their factual entertainment shows from those CAPTCHAs – you know, the phrases in wiggly writing you type in to prove you're human on internet forms. They might be 'purple clap', or 'festive shoehorn', or 'Stacey Dooley Investigates'.
Runner Up: Young Beautician Of The Year
Worst/Funniest Human Being
Stuart Baggs

He's a guy with a glint in his eye and a song in his heart. He eats spreadsheets and s**ts money, with the kind of unassuming masculinity that would make Arnie feel like Louis Spence. On the weekend he composes for the bassoon, cures the blind and chairs meetings of the UN. Every time he cries a Unicorn has a stroke. He's strong like the wolf but kind like the Koala bear, with a face that could launch a thousand business proposals. He is the man, the myth, the brand… THE BAGGS. *Que swelling string music*